I figured it's time for an update, especially with the great progress I've had the past couple of days =)
Let's first start off by saying I did not manage to get a prescription for xyrem. I've had a sleep study done, they basically monitored me from 22:30 till 7:00 in the morning. What results show is that:
- From around 23:00 till 3:00 in the morning I repeatedly fall asleep to wake up in 30 minutes, not allowing me to get into a deep sleep.
- Then after 3:00 in the morning I fell asleep for like the 4th or 5th time and I finally did manage to get into a deep sleep only to wake up 3 hours later. From that moment I did not manage to fall asleep anymore and just waited for 7:00 in the morning so I could get my shit plugged and out and I could get up.
- The next day they ran 4 tests at different times to see if I was able to fall asleep within 20 minutes. I did so 2 times.
I left a good representation of what a normal night for me looks like, now bring forth the xyrem I thought. 2 Weeks later when I had to go back to discuss the results with the doctor however, I was told xyrem for me was not an option due to dutch legislation about this drug. Here in Holland it's only used to treat people with narcolepsy. The doctor also tried to find published medical journals or something about sleeping problems caused by finasteride to justify the use of xyrem in an experimental way, but he said he couldn't find any. So with that in mind he could not describe xyrem even if he wanted to. He didn't discard my story though, but that's just how it is. They offered me cognitive sleeping therapy as treatment and perhaps later on, if necessary, I could get meds. I honestly don't care for sleeping therapy though, I've been chemically fucked over by medication, I don't see how talking about my sleeping problems is going to get me anywhere.
With that said, let's move on to the positive stuff: =)
- As I've told before, through the use of finasteride I've developed some injuries with I'm sure all you guys are familiar with. Popping joints, knee problems etc. Finasteride caused muscle loss for me initially for sure which leaves your body's balance way out of whack thus resulting in painful joints because there is just too much stress on it when there shouldn't be. My knee problems are pretty close to be entirely out of the way due to proper muscle strengthening. The knee problems were caused by the same muscle imbalance that caused testicular pain btw. Anyone still suffering from testicular pain I say go get yourself checked by a physical therapist and work on it. What happens is the muscle where your balls hang on are way out of balance tight thus causing testicular pain as well as your knee being yanked out of proper positioning as you move and shit. Go to a physical therapist and get that shit checked out, I can't stress that enough.
I've been doing some reading up on muscle imbalance and altered nervous system signalling because of it and I think this might also be playing a huge role in PFS. I already had bad posture to begin with even before taking finasteride much like in this picture: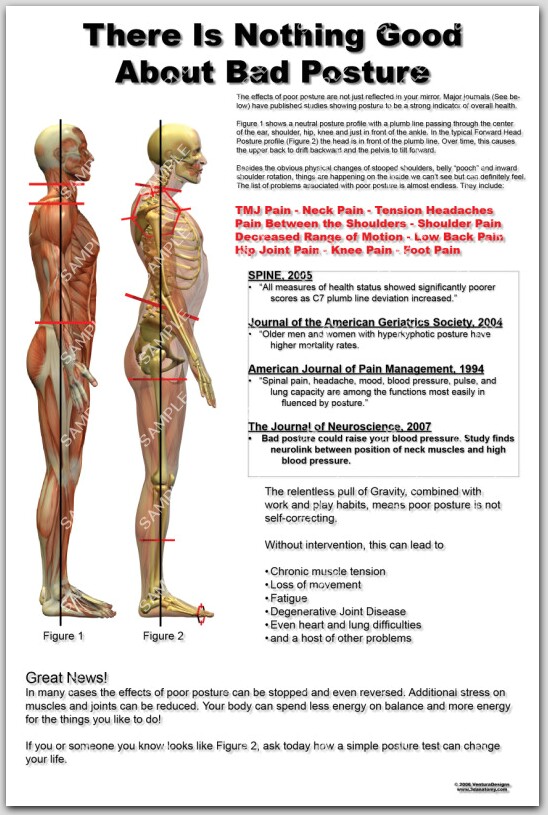 I think finasteride weakened my body and amplified all kinds of imbalances causing me to snap some serious shit up. Exercising is now manually giving me proper balance and helps get rid of these injuries. I can only theorize the muscle imbalances also leads to altered signalling to my junk causing persistent problems. I'm not saying it's the root cause, but it could certainly be playing parts. This I say with reference my sway back and tilting hips. I've been doing core exercises a lot as well as a whole bunch of stretching exercises and it's been working great for my posture. And more importantly, for my erections. Before I started doing these exercises I would have unusual amount of pre-ejaculate dripping out my penis only at the slightest hint of an erection. I never thought much of it so I never mentioned it but now that I've been doing these exercises and this has completely normalized it makes me think it was pretty odd after all. My erections are now more frequent as well, spontaneously even sometimes.
- Concerning sleeping difficulties, for the past month I was experiencing some problems falling asleep. I fucked my sleeping rhythm up once by taking a nap after coming back from work. This ultimately resulted in having sleeping patterns in which I was not able to fall asleep before 4 in the morning. Needless to say, fucked up shit, so I called the doctor and he prescribed me a sleeping medication called "Temazepam" to help me fall asleep and break this circle. Of course I was a little bit hesitant about putting more pills in my body but I agreed anyway knowing it was needed to be able to sleep at normal hours again. First night I took that stuff was like a revelation, I felt so mellow and relaxed 15 minutes after taking it. I went to bed right away and managed to sleep 5 hours straight of deep sleep, woke up to take a piss and then slept for another 4 hours. When I woke up it was so great. First of all, I woke up with a boner and I actually felt refreshed for once. I did not feel that completely tired feeling you have when you wake normally wake up post-fin. I was however, very drowsy from that stuff and my muscles felt very relaxed and weakish, basically like if you had just smoked a big ass joint. The next couple of days I used this stuff that drowsy effect wore off and same for the weak feeling while it still helped me get good sleep. Though I did feel like I was getting immune to the medicine rather quickly. The effect got less quite quickly as days progressed. Has anyone noticed this? How you grow immune to whatever you take very quickly ever since having taken finasteride?
But anyway about the good stuff it gave me:
- I get more quality sleep and actually feel rested when waking up.
- Waking up with a swollen mushroomtip, the strong morning wood type. Today when I woke up for example, I stayed in bed for like half an hour being a lazy ass while having a constant present, armor piercing boner that didn't go away till taking a piss.
- My libido went up from taking this shit, I wouldn't say I'm back to the horny goat I was before taking finasteride in need of relief at least 3 times a day. But I can definitely say my libido is up to a point where it hasn't been for a very long, long time. As I'm writing this I even have to fight the urge to not browse to a porn website and burp the worm so to speak while I've already blown my load last night. I guess that gives a good indication of where I am at, at the moment =P. I'm keeping low on masturbation however since I don't want to start pushing things too much as of yet. But this certainly has been some fine progress.
Temazepam is a benzodiazepine I learned today as I googled what I've actually been taking for the past 7 days:
http://en.wikipedia.org/wiki/Benzodiazepine
"Benzodiazepines enhance the effect of the neurotransmitter gamma-aminobutyric acid (GABA)"
I thought that part was particularly interesting and might explain my progress on it judging from the theories I've read on this forum.
So yea, in short, I've been feeling awesome lately, I'm very positive. In wouldn't go as far as to say I am recovered yet seeing as how I'm convinced I still have some sort of inflammation going on down there. I'm not gonna elaborate on that now, but I'm working on getting the ball rolling on that department as well. I'll keep you guys posted on that when I know more. I've also last night taken my last temazepam pill last night so I will say if this progress sustains. I only got 7 pills seeing as how short term use is relatively harmless, perhaps in the future I might take it again. For now I'll see how it goes.