We are supporting a new research project on the persistent side effects experienced by men who have used and discontinued finasteride (brand name Propecia or Proscar) and subsequently committed suicide.  The research is led by Dr Michael Irwig, Associate Professor of Medicine at George Washington University in Washington DC.
Dr Irwig's project will identify cases of patients who suffered persistent health problems following use of finasteride prior to their suicide. This will add further recognition of the persistent physical, sexual and neurological problems that do not resolve following discontinuation of the drug through publication in a peer-reviewed medical journal.  It is hoped this will increase awareness amongst the medical profession of Post-Finasteride syndrome and bring publicity to the potentially tragic effects of finasteride.
Dr Irwig intends to review the medical records of these patients, to consider their medical and psychiatric diagnoses when starting finasteride (Propecia). This means Dr Irwig needs to identify patients who have taken their own lives following the persistent health problems and lasting side effects induced by use of finasteride, which is why we need your help.
Action Needed
If you are a relative, friend or partner of someone who had side effects from Finasteride (Propecia) that did not resolve or developed after use of the medication and subsequently took their own life, please contact Dr Irwig directly.  His email is propeciastudy@gmail.com, or alternatively contact him via post to: 1711 Willard Street NW, Washington DC 20009, United States of America.
If you are a patient who knows of someone suffering persistent health problems following finasteride use who took their lives, please get in touch with the Propeciahelp.com team.  Even if you only know the basic details of the person, such as a forum username, get in touch via private message.  All details are helpful and we would like to assure you of our discretion and gratefulness for your time.  This will help us to do the necessary unearthing and collate more cases for this important research.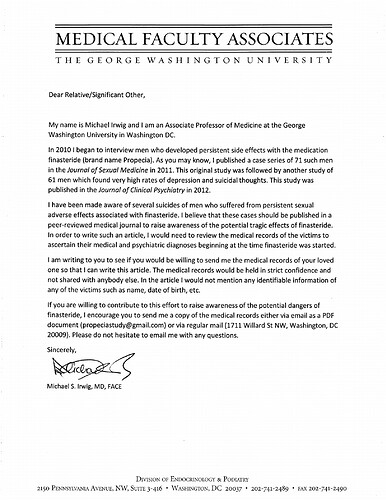 Practical Action on Finasteride (Propecia) Lasting Side Effects and Suicides
Propeciahelp.com's support for this research is further practical effort to address what is currently termed the Post-Finasteride Syndrome.  We are also running a genome-wide association study involving 23AndMe SNP analysis. This is a project open to patients with lasting health problems following discontinuation of Finasteride (Propecia), Isotretinoin (Accutane) and SSRIs. Your support with these projects will help us work towards a desperately needed etiological understanding of PFS and ultimately a treatment.
We're grateful for your help.  If you are a patient suffering following use of the aforementioned substances, talk with us on our forum and get involved.